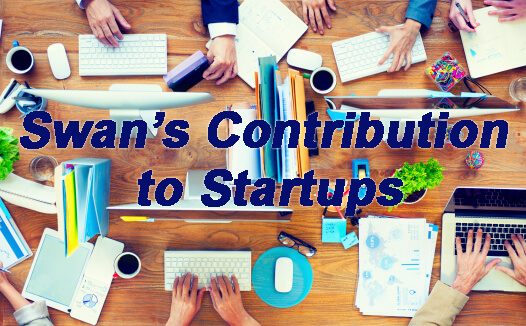 Swan's Contribution to Startups
Indianapolis is considered to be a city with an emerging tech hub. Tech companies are setting up shop here and in the surrounding area because Indiana offers the tech talent and loyalty needed with a business environment that encourages growth and rewards innovation. In a recent Forbes article, Angie's List CEO Scott Durchslag attributes tech growth in Indiana to a talented and dedicated workforce by saying that, "unlike Silicon Valley, employees are here because they want to be here which tends to lead to much more loyal employees and a lower attrition rate." Time Magazine's MONEY report lists Indy as one of the 20 hottest cities for tech jobs, Women's Business Daily highly suggests Indianapolis as a great place for a woman to launch her tech business, and according to the recent Tech Cities report by Cushman & Wakefield, Indianapolis is one of the top 25 tech cities in the U.S.
Here are just a few reasons why:
Over 5% of the workforce is in technology-related companies or fields
Over 20% of the workforce is in knowledge occupations (Kauffman Foundation)
In 2016, $51.51 million was invested into Indiana tech companies
One of these tech companies is Swan Software Solutions.  Swan adds necessary elements to startups success by identifying a minimum viable product (MVP), a prototype, validating, assessing and developing the new ideas or business concepts, deepening customers' understanding of the ideas, technologies or business concepts and their commercial potential.  Swan Software Solutions has worked with the following startups to get their project off the ground and make their ideas into reality.
BidPal (now known as OneCause)

Founded: 2008
"BidPal is the leading provider of technology that helps charities raise more money while adding fun and excitement to fundraising events. The company's commitment to helping nonprofits use technology to more efficiently manage their fundraising efforts has fueled explosive growth in BidPal's products and services. BidPal was the first to revolutionize charitable fundraising by introducing mobile bidding to the silent auction process. Today, BidPal has an expansive product offering encompassing a fully integrated, end to end fundraising software solution."
Founded: 2013
"Drive marketing ROI and employee engagement: Sigstr unlocks employee email as an owned channel by providing simple, central control over your company's email signature."
Founded: 2015
"Based in Indianapolis, Indiana, Springbuk is a health analytics software solution. The company's health intelligence platform unifies medical claims, pharmacy, biometric and activity data. The predictive modeling engine helps employers target their engagement with pinpoint accuracy, forecast overall healthcare spending, identify at-risk employees, and measure their wellness programs"
If you have already made up your mind or are still speculating whether to set up your own startup, contact the professionals at Swan Software Solutions today. Our experts are prepared to discuss what software development and criteria for startups can do for your business.