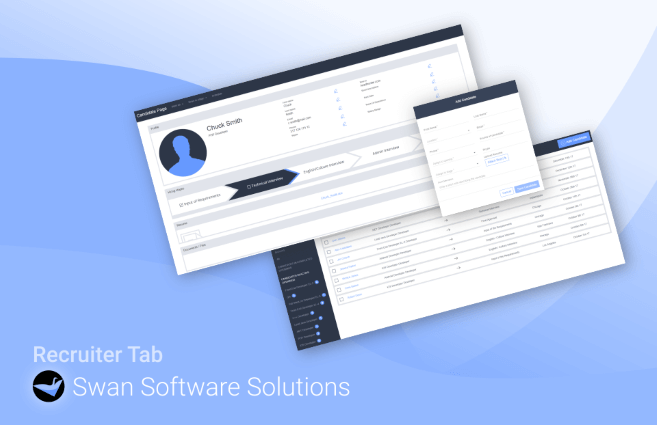 Categories: HR/Outsourcing
Develop a custom solution or use an existing platform – what is more effective for an HR manager?
Our HR Managers with years of experience have repeatedly faced the challenge of choosing an existing software platform for managing the employee hiring process.
For several years we were using recruitment services like Recruiterbox and process management software like  KissFlow. The main advantages of these services are the simplicity of use and customizable functionality. The main drawback in our opinion is the pricing model for new users and openings, which is not always cost effective for companies with a large number of users and the constant need to hire. We thought there must be a more cost effective approach and decided to develop our own solution, simply called – Recruiter Tab.
Main advantages of our custom software solution:
free and unlimited number of company vacancies;

flexible and convenient settings for hiring stages;

automatic creation of candidate profiles and tracking of their current statuses;

unlimited number of users;

instant email notifications regarding scheduled interviews;

flexible configurations for individual needs of the company;

integration of a local databases of applicants;

tracking of user activity;

flexible settings for system of assessments and comments;

email notifications about changes in scope of a vacancy;

use of templates to create, describe vacancies and distribute responsibilities within a specific job.

archiving of candidates and statistics with the number of applicants and interviews conducted.
Working with our own custom solution has allowed us to customize the recruitment processes for the individual needs of Swan Software Solutions and to carry out a more productive employee hiring workflow for new projects.
Bottom Line
Companies always have a choice to use out of the box software or create their own custom software solution. Not all software products are suitable for a company's specific needs or individual business processes. It can be a cost effective decision to invest in a custom solution that will increase productivity and streamline process.
To learn more about custom software development and outsourcing your technical team, contact the professionals at Swan Software Solutions today. We are very well prepared to suggest the most effective and affordable solution for your business!